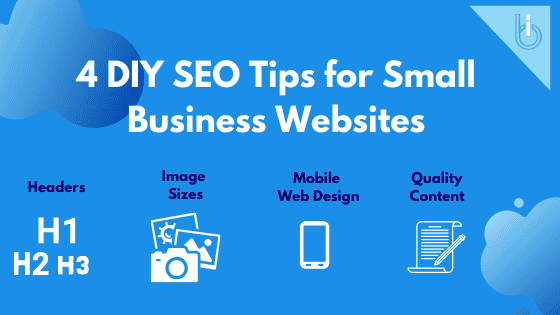 As a small business owner and manager, you spend a lot of your time and resources working on marketing your company to reach new clients, customers, consumers, and audiences. 
As marketing changes and increasingly moves online, you may be struggling to keep up with new trends or understand the best practices to invest in to optimize your audience reach and maximize your online potential.
If you are working independently on your website and marketing, or with a small team, we have put together a few simple and quick tips you can do yourself, at home, today to help increase your virtual presence online. 
Learn about why it is important to invest in search engine optimization techniques (SEO) and how you can implement changes to your website right away that will begin to increase your search rankings and make your site a user-friendly experience for new customers checking out your products and services.
With a few small adjustments today, you are looking ahead to a more lucrative tomorrow.  
What is SEO and How Does it Work for My Business?
SEO stands for search-engine-optimization. By making adjustments to your website content, design, and other online content, you can boost your business to appear on the first page of Google search results for phrases and inquires related to your primary industry. With a powerful SEO digital marketing strategy and agency, you can appear within the top five search results related to your industry.
Appearing in the top results of Google searches leads to more clicks on your websites which converts into more customers investing in your products and services, allowing your business to thrive.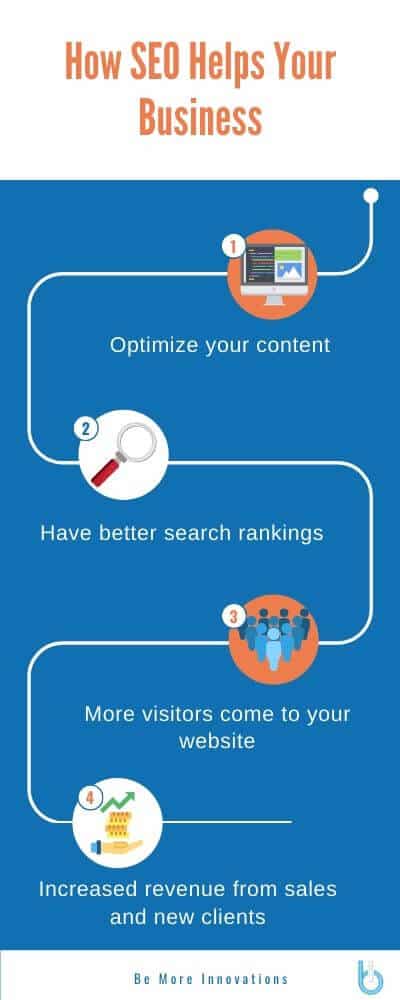 What Businesses Benefit from SEO?
SEO benefits all businesses, freelancers, contractors, shops, and more!
Here's a few of those we assist the most: 
How to Begin Optimizing Your SEO at Home
You may be wondering if you need a digital marketing company to assist you with website designs, SEO projects, and more.
While a digital marketing agency can be a useful investment when optimizing your SEO because they have access to software, programs, resources, and an educated team who know how to edit your website and mass update your content across the web in ways related specifically to your industry that respond to Google's guidelines and provide your website visitors the optimal user-friendly web experience, they are not required. 
There are easy and simple adjustments you can do at home, today, to begin the process without needing a marketing or design team. We will walk you through some simple steps that are easy to understand and take minimum time to complete so you can begin the SEO process and attract more customers with an optimized web design.
It's important to note that Baltimore local SEO agency does not provide instant results and it can take several months before major changes are noticed in your website traffic or online purchases and contact. When you begin today, however, you begin the process of letting Google know your website is a great resource for people searching for products and services related to your industry, which will slowly grow your website's trust and increase your ranking over time. 
Plus, any users finding your website will have an experience tailored to encouraging them to view more and stay online longer, browsing your content and learning more about you and your products. 
By making changes today, you get a headstart on your marketing growth.
Step 1: Use Header Tags with Keywords on Your Website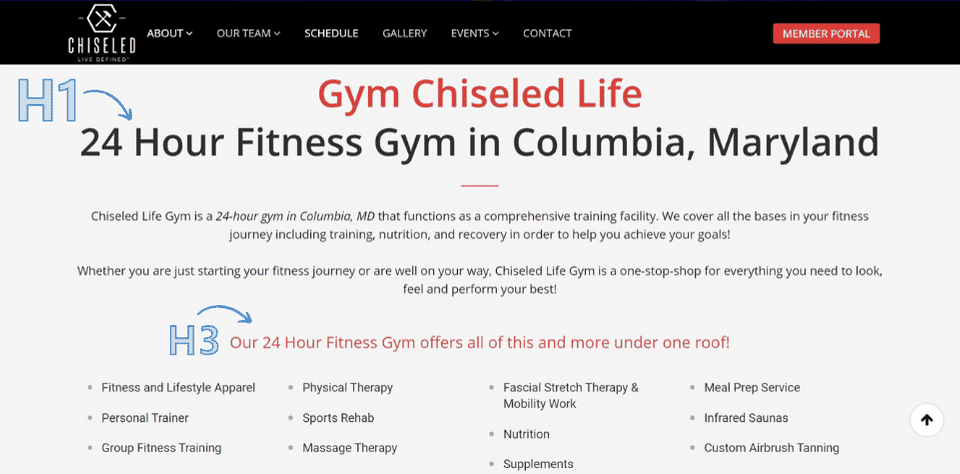 A great way to tell Google what your business provides, and to make your website more user friendly, is to use Header tags when editing your website. Header tags indicate to Google that this is the content and products you provide, and what location you are based in.  
A general rule is to use only one H1 tag, and make sure you put your business' main service in the title. After that, optimize H2, H3, H4, and H5 tags for subheaders. 
If you look at our example, you'll see we've highlighted the name of the business, the type of business, and the location within the H1 tag. This lets users know immediately what type of business this is and where, and Google uses the H1 tag to understand these are the key elements to use to define the website. 
An H3 tag is used to continue to highlight the type of business this is, based on what phrases people will use to find this kind of business. An H3 tag also draws the users' attention to important facts they should know about this business. 
Don't use H-tags for all your content, because this is hard to read and goes against Google's guidelines. But when you optimize H tags around the prime content, you are helping direct your readers to the most relevant information while alerting Google to what services you provide. Now, when people search "24 hour gym near me" and live near Columbia, MD, Google can provide them this website and business as a trusted answer to their needs. 
Give it a go, update your website with some new headers, and send us the link on our social media accounts or in the comments below. We'll let you know if you're optimizing them correctly! 
Step 2: Resize Your Images to Smaller Dimensions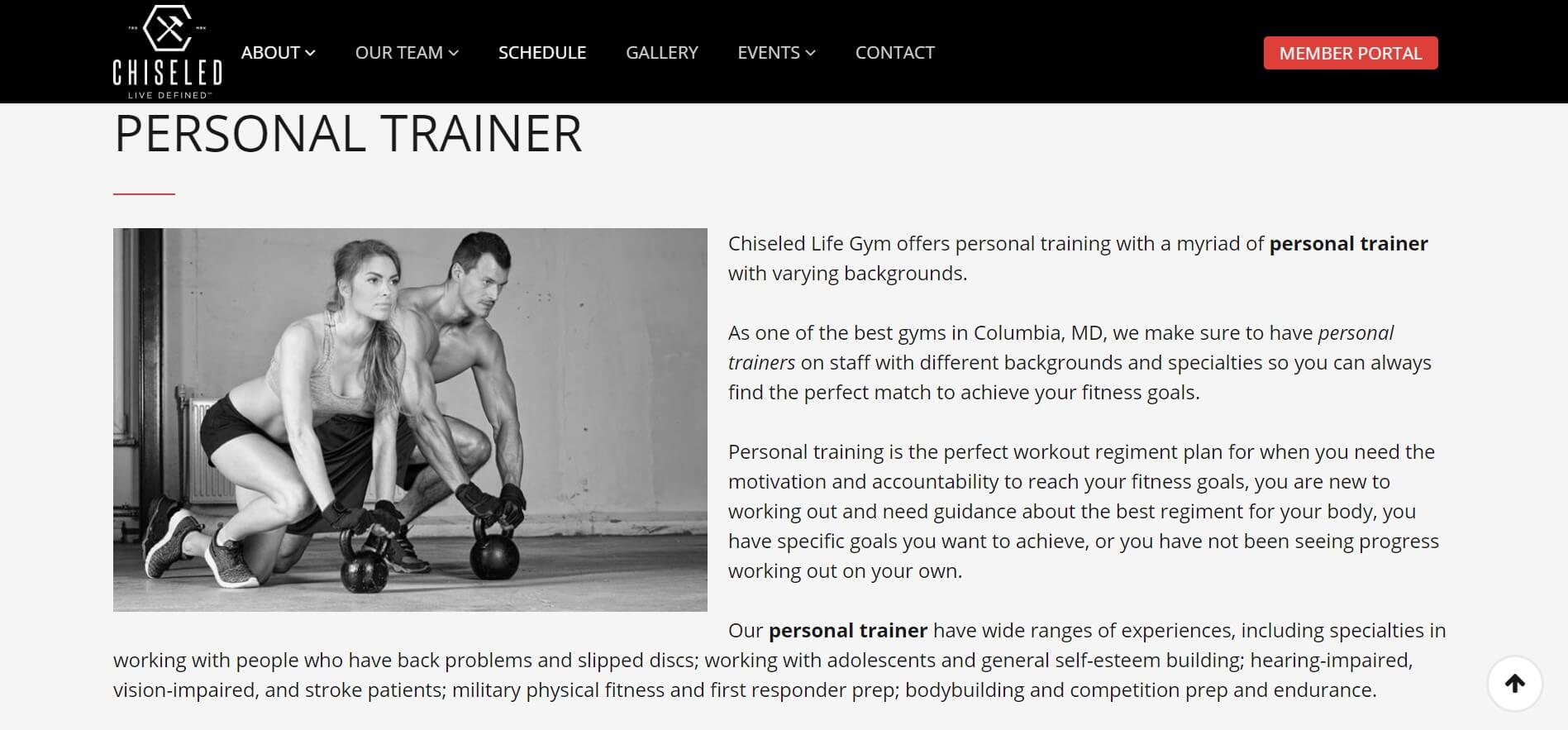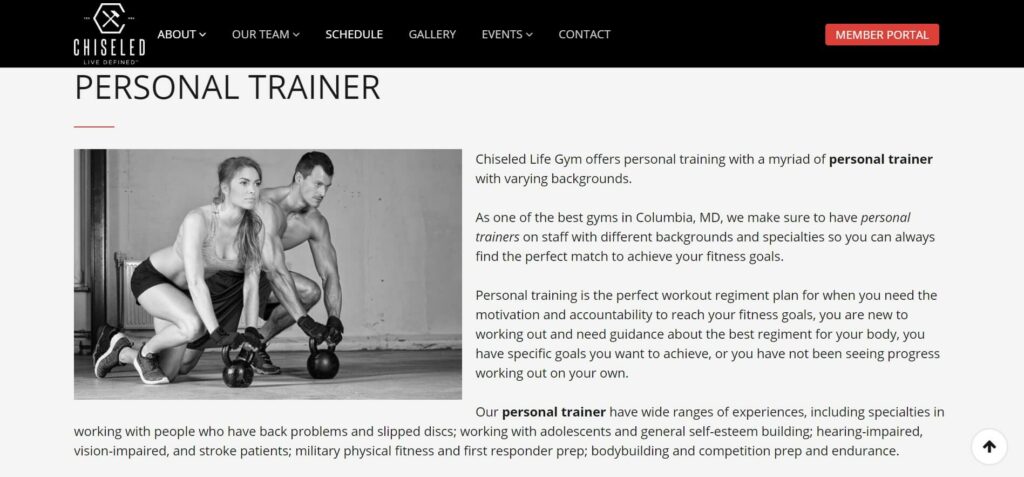 This is a simple adjustment that can be done in Microsoft Paint or any other basic photo editing software. Large images take a long time to load, and a slow loading web page does not rank well with Google and can annoy your visitors. 
You may not notice these delays, but even a second can impact your ranking. Most visitors view your website on a mobile device, and this is where those large images really take a toll.
Unless an image is your background or a header, a good image size is recommended to be between 500px and 800px. You won't lose quality but you will gain load speed. In our example, we used this photo to enhance the content but kept it at 500px max width – just enough to draw attention but it reduces load times for the website. 
Step 3: Make Your Website Mobile Friendly
You probably built your website on your desktop or laptop; that's where you make your changes, review your content, and more. But your visitors aren't just visiting on their desktops, they're viewing your website on their tablets and on their phones, too, probably a lot more than on a computer. 
Pull up your website on your phone and tablet, and take a look at the web design. If it takes long to load, you have to pinch to zoom, your pictures are overlapping, your menu covers your content or more, then you need to revisit your web design.
In our example, you can see how the image moves to the top of the content, doesn't shrink to be too small to see but doesn't go off the page either. The content can be ready easily, and the header text isn't overlapping on its self. 
A lot of website design platforms have a way to view what your website looks like on mobile in their computer editor, like Square Space, select version of WordPress, and Wix. Utilize these tools to see how your content is shrinking (or not) and if there is a better way to format your content for your mobile visitors. You can make adjustments to your mobile view in these web design editors that will not affect how the website looks on a computer. 
If you're only optimizing your content for your desktop visitors, you are eliminating half of your potential clients and customers, and Google reflects that by lowering your search ranking. Think about your mobile users any time you make adjustments, and make adjustments today for a better mobile web design to stop losing clients who may be put off by unfriendly mobile browsing experience. After your done, share your new web design on Facebook and show off your optimized design! 
Step 4: Create Informative, Long Content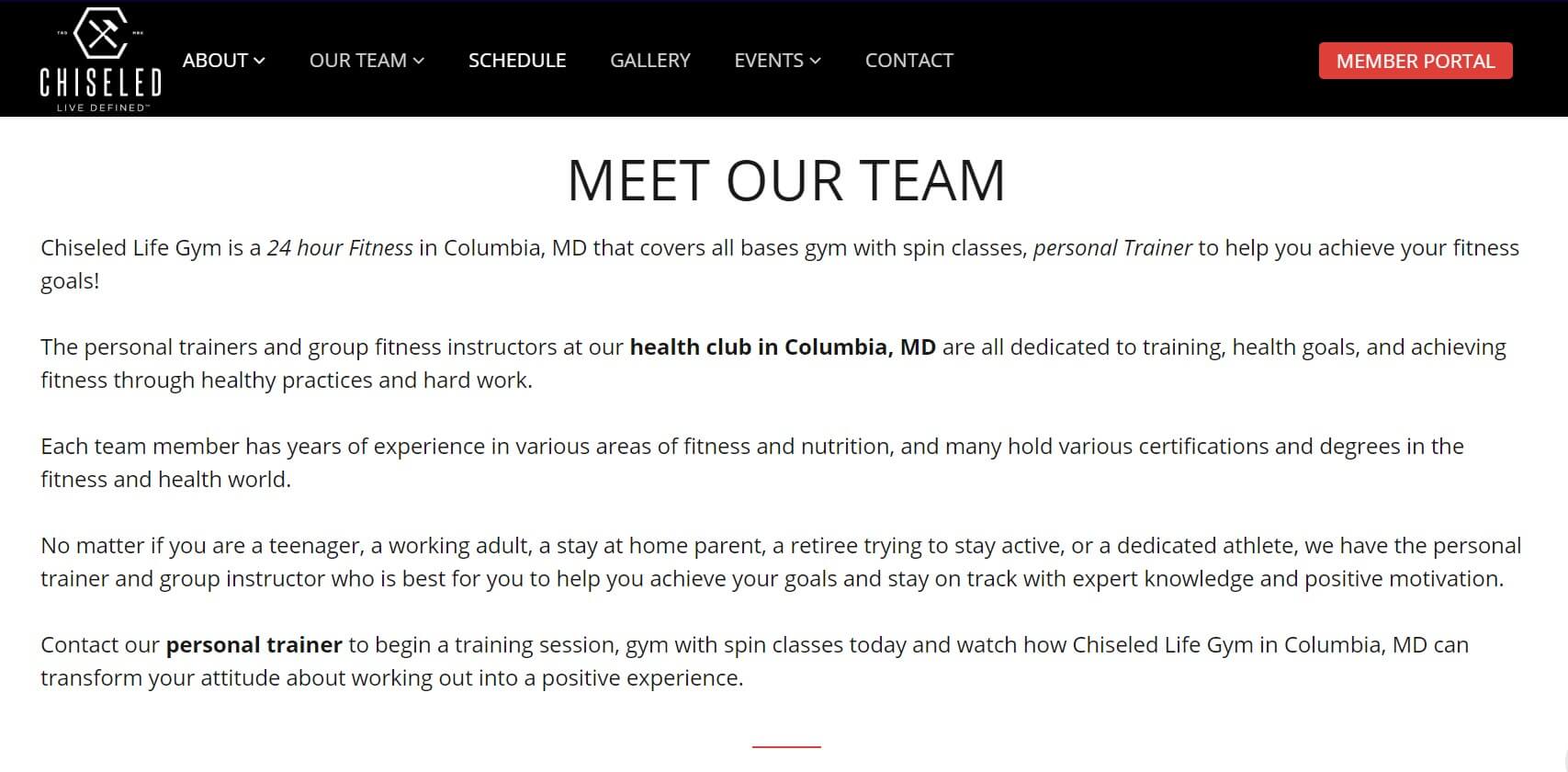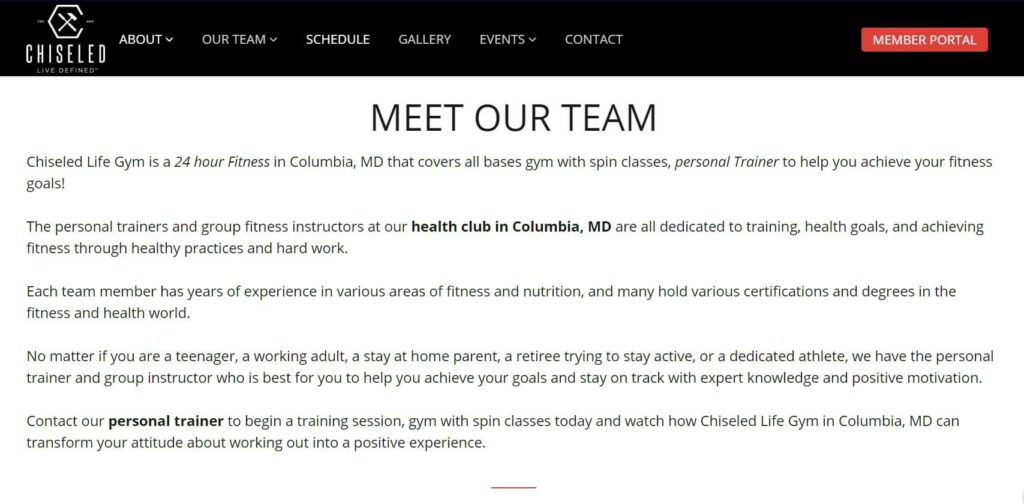 Websites with longer, more descriptive content rank better in Google search results. This is because users stay on the website longer and get more answers to their questions, all in place.
You want to use a good balance of photos, media, and content, and make sure your content is long – at least 500 words, although 800 is better. Use headers to separate the content into different, useful sections that your visitors can easily read through to find the answers to their questions.
If you take note, each of our screenshots were all from the same website, and all from the webpage. The correct combination of headers, media, and content created a web page that has over 800 words in content, but it is also easily digested and all extremely valuable to any visitors looking for a new gym. 
Use your content to discuss what sets your business apart, what type of services you provide, your reputation in your community, and more. People are visiting your website to learn what your services are, how your products work, what sets you apart, and more, so make sure they have all the answers right away. Don't be too limited, be concise and informative to help everyone who comes to your website.
SEO utilizes a lot of different components, but some of the most important ones take place right on the home page of your website. Create a more user-friendly experience, and a web design that is Google-friendly and compliant, by making these adjustments today.
With a better web design, faster loading speed, mobile-friendly layout, and informative content, users will be more likely to stay on your website and contact you. They also may be more likely to share the website with their friends and family who may have the same needs.
Appeal to Google, improve your rankings, and create a better online experience with these quick tips.
If you want to take it a few steps further, we cover the different tyes of SEO for business and how to optimize your SEO through your Google My Business profile. Became an at-home SEO expert by making quick, easy changes that will improve your business' marketing.
Got questions? Still not sure what to do? Want to show off your changes and get some feedback? Contact us! 
Leave us a comment, find us on Instagram, Facebook, or Twitter and send us a message. Plus, we're always checking our email. We are here to clear up any confusion and help you boost your website.
If you are ready to take the plunge with a full digital marketing agency handling your SEO and digital marketing, sign up for our free SEO audit and we'll highlight what we can do to boost you to the top results of Google.
Want updates when we release new content? Subscribe to our email list and we will let you know what other resources we have for your business.