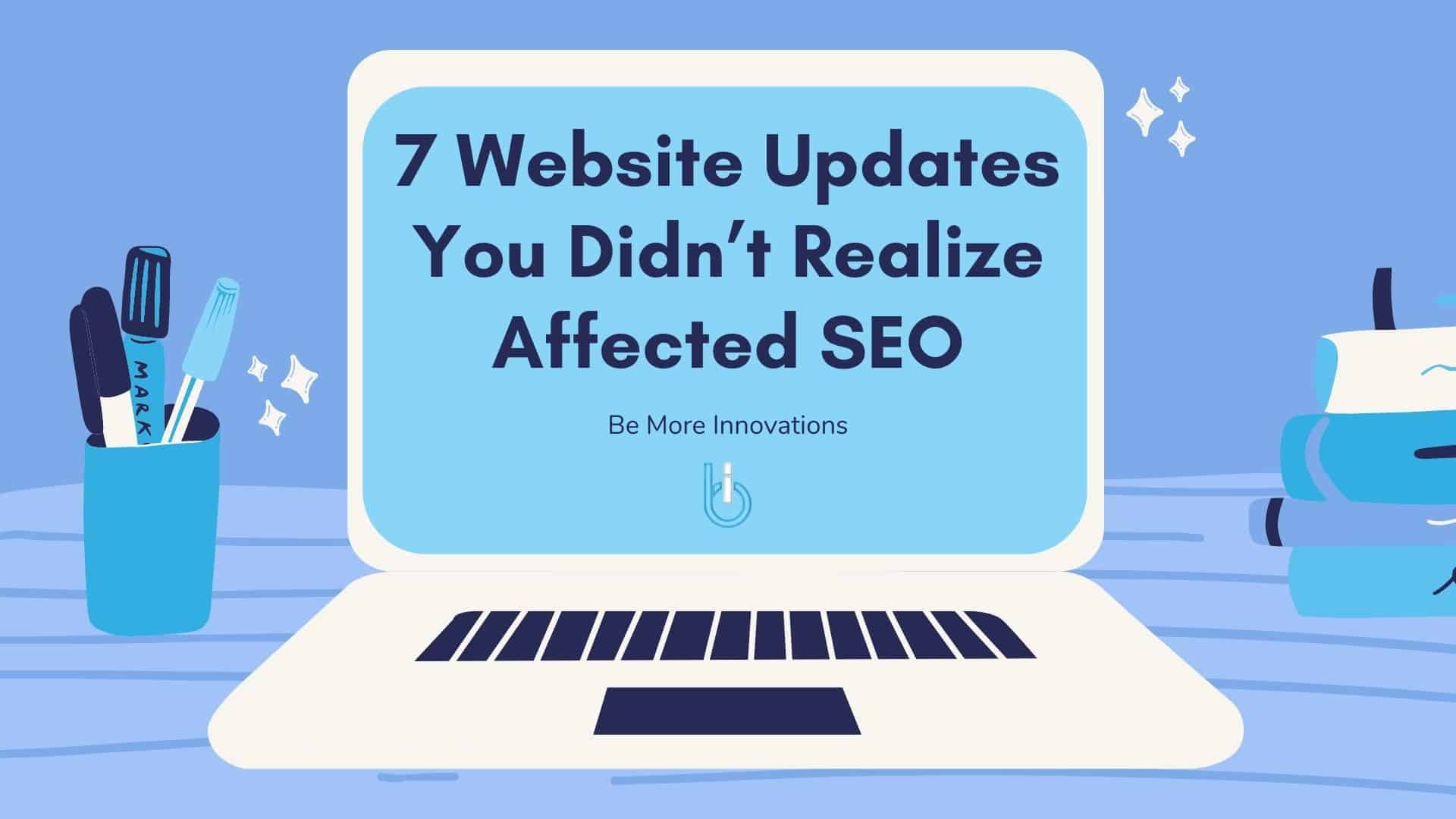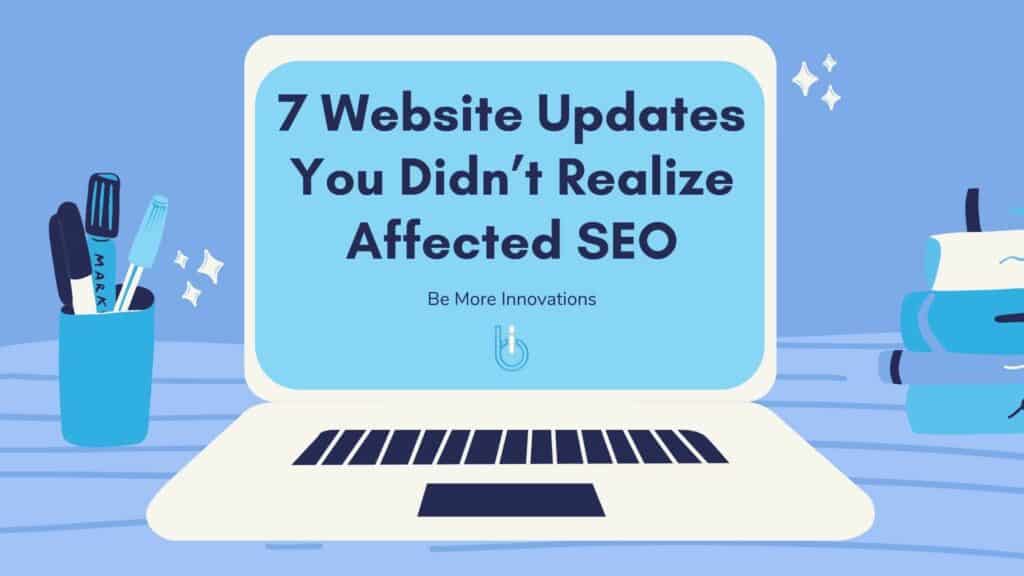 Managing your own small business website comes with a great deal of satisfaction — developing a design and layout that represents your brand, getting to put forth content in your own voice to tell your story, and sharing the site with pride to new and old customers alike.
There is a technical side to website design and the overall build that you may not be aware of, however. Certain aspects like your URLs, page descriptions, and more all affect how your site is seen when it's shared, Googled, or posted on social media. It's important to not only have a killer website design on the front end, but manage an SEO-friendly website on the backend, too.
To help your business have the best SEO website design, and to improve your overall Google search ranking, make sure these items are on your website design checklist!
Make a good first impression no matter how someone finds your website with this website SEO analysis you can complete today. And if you'd rather, check out our SEO Infographic instead. 
1) Your URLs Matter for an SEO Friendly Website
This may not be something you've considered before, but the URLs for your site matter in the world of SEO. Even if you do not complete extensive keyword research to boost your website's SEO, you want to include descriptive words or phrases in your URL, and even want to add in your location, if possible.
For example, people may click on your menu to learn about the roofing installs you do, but your URL will read localcompany.com/roofs/. This doesn't tell Google a whole lot about what the page is: photos of roofs, roof supplies, and what roofs? Allow your URL to be a short summary of the page, so /roof-installs-maryland/ would be much more accurate and descriptive.
Why Do URLs Matter for SEO?
URLs matter for SEO because it's a signal to Google, and everyone else, what your webpage is about. URLs are an immediate way to know what you're reading about, what the information is on, and what primary topic is on the webpage.
Make sure your primary URL is descriptive and personal, and all of your other URLs, too. Make sure your service pages, product pages, blog link, and contact URL include a keyword related to your business.
Note: If you already have URLs created and you want to add keywords into the link, remember to add a redirect so visitors who find your old URL don't end up on a broken web page.
2) Don't Forget to Add a Meta Title and Description for Your Small Business Website
When you browse Google search results or share links on social media, you may note a header and descriptor that isn't seen on the webpage. These are the meta titles and descriptions, and these are important for both an SEO-friendly site and providing a user-friendly experience.
If you don't optimize these areas with your own content, people who Google your site or find a link to it on social media will see a default description that probably isn't very accurate or informative. Take the extra time to catch a user's attention right away, before they even click on your website.
Why Meta Titles and Descriptions Matter
Any website SEO analysis will immediately look at your meta titles and descriptions when determining how optimized your website is for SEO. That's because meta titles and descriptions are additional places that Google looks for information about your website.
The meta title and description appear in search results and as a preview to the webpage when shared in an email, social media, and other places online. It's important to do some light keyword research to include industry-specific terms within the content to help let Google and your visitors know what your site tackles. It's yet another place to tell your story, so take advantage!
Note: Stay within the word count for both the meta titles and descriptions! Use short keyword phrases and get right to the point to draw people in. This should be your hook, not your total summary.
3) Add a Featured Image for Your Local Website
In addition to meta titles and descriptions, you want to include a featured image to go with your page's summary information. It's no secret that people online are visual thinkers — a wall of text scares away users, while images draw readers in. Adding a featured image is the first step to capturing a user's attention so they can then click to your content or take in your snippet and share it with others.
Why a Featured Image Matters
A featured image is a second chance to show visitors what your webpage is about — make it captivating and evocative. Without an image, your content will be too intimidating to users and they will likely skim right over your link without taking in any info.
That featured image will also show up on social media shares and is oftentimes the only thing users see when browsing their feed. A featured image helps showcase your brand in a visual manner which can then lead people to your content.
4) Add Alt Text to All of Your Images to Increase Your SEO Ranking
This is something you may or may not be doing with your images on your website, and it's a crucial step to improve rankings — add alt text to your images. Alt text is another place to breakdown what your services are and showcase a bit more about your company.
What is alt text? Alt text is the alternative text that describes an image and tells Google, and other websites, what the image is. When you search on Google and click through to "images" those images appear because the alt text was relevant to the search term. Yet another way to reach users and tell Google what you do. 
Alt text matters for SEO on your local website because it is another place to put descriptive keywords that signal to Google what your website is about. Google looks at everything to learn about your website and what you offer, and your image alt text is another place to put your company's key information.
To implement your alt text properly, use keywords that accurately describe the image and what you do but make sure you're also describing the image accurately. 
5) Make Sure Your Internal Links Are Descriptive
First off, if you're not using internal links (links that take users to other webpages on your site) you should be. Internal links keep users engaged, help Google index your site, and boost your SEO by keeping users on the website longer.
These are yet another useful tool that is examined during an SEO analysis because internal links can hold a lot of power. When you're browsing a webpage and see links, the phrases those links are attached to tells you a lot about what you'll learn if you click through. For example, if a webpage says "Call us today to get started" and "call us today" is a link, you expect to be taken to a company's contact information. 
Descriptive phrases for internal links are important to both users and Google — just like users examine the context of a link to figure out what they will learn, so does Google. So, if people are reading your blog and you mention "we have other services similar to this" get descriptive! "We have other roofing services" is a good internal link phrase versus "other services." Stay short, snappy, and informative. 
Why The Phrases You Choose for an Internal Link Matter
While it's important to include internal links throughout your content, how you label them is critical to your local website's SEO performance. Your internal links should be attached to short, descriptive, keyword phrases that you want to be associated with the page that it links to.
Google associates the phrases you use for internal links with what that page offers. Simply saying "click here for more info" over your link doesn't give Google any additional information.
6) A Call to Action in the Footer is Worth a Lot for SEO
When you design your website, you want to optimize all of the space you have. This includes the footer, header, contact page, sidebars — everything.
Oftentimes, people won't optimize their footers and this can put a dent in an otherwise successfully optimized website. Remember — you always want to give your users as much information and call to actions as possible, as well as give Google the same amount of information.
When users scroll to the end of your webpage, don't make them scroll back to the top to find your header, or expect them to hunt for a new area to click through. Your footer should contain links to all the key areas of your site, your address, and your contact info.
Why a Footer Call to Action Matter
Visitors to your website are there for one of two reasons: they're learning about you or they are there to contact you about a service or product. Your goal is to make that as simple for them as possible and that means always giving them clear directions throughout your site.
The footer of a website is very simple and should remain that way: a list of links to your services, your address, your phone number, and your email, all cleanly displayed. This is critical to converting visitors into buyers.
7) Link to Your Social Media Profiles and Make Shares Easy
Part of your content management strategy should include making content easily accessible on social media. Social media allows a ton of organic opportunities to widen your audience reach, and you want to take advantage of that as much as possible.
This means including links to your social media where they are easily reached, adding share buttons to your blog posts, and encouraging users to follow you. This may not seem like it does a lot, but if someone wants to follow you, talk about you, or reach out, make that easy. Social media is all about being social and you want to be included in that. 
Why Social Media Links Are Important
Part of the mission of your website is to gain the attention of new users to get them into your sales funnel. Gaining a lead via a social media interaction or someone sharing your content is the first step to branching out and reaching new people and sharing your message.
These website updates may seem small or insignificant, but they all work together to broaden your business' reach. Make the user experience friendly and easier and encourage users to click through your site and talk about you. Pus, Google will pick up on these updates and improve your ranking.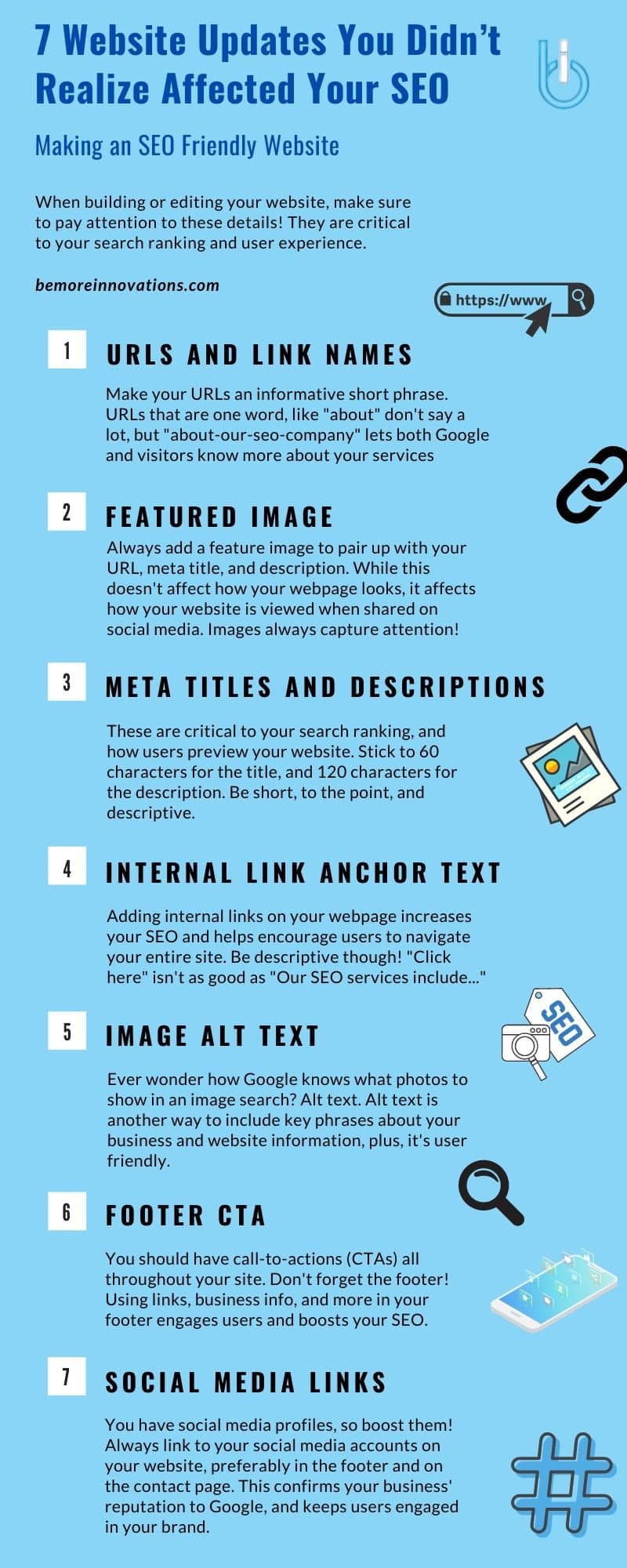 If you still have questions, or you want to share how our guide helped you with your business, comment below! You can always email us or connect with us on social media. 
Want updates when we release new content? Subscribe to our email list and we will let you know what other resources we have for your business.