Search Engine Optimization
Search Engine Optimization in Baltimore, MD
Bimeo Digital Solutions has been assisting local companies with search engine optimization for years. Our team helps you grow in your community, expand into neighboring markets, and meet your Baltimore customers at every stage in the sales funnel. Let's get started! 
SEO Services That Grow Local Companies
We outline everything your business needs to have a successful SEO strategy. 
Keywords
Competitor Analysis
Service Areas
Backlinks
Website Speed
Content Creation
Factors are used to determine a search ranking by Google
is the average number of clicks of the first search result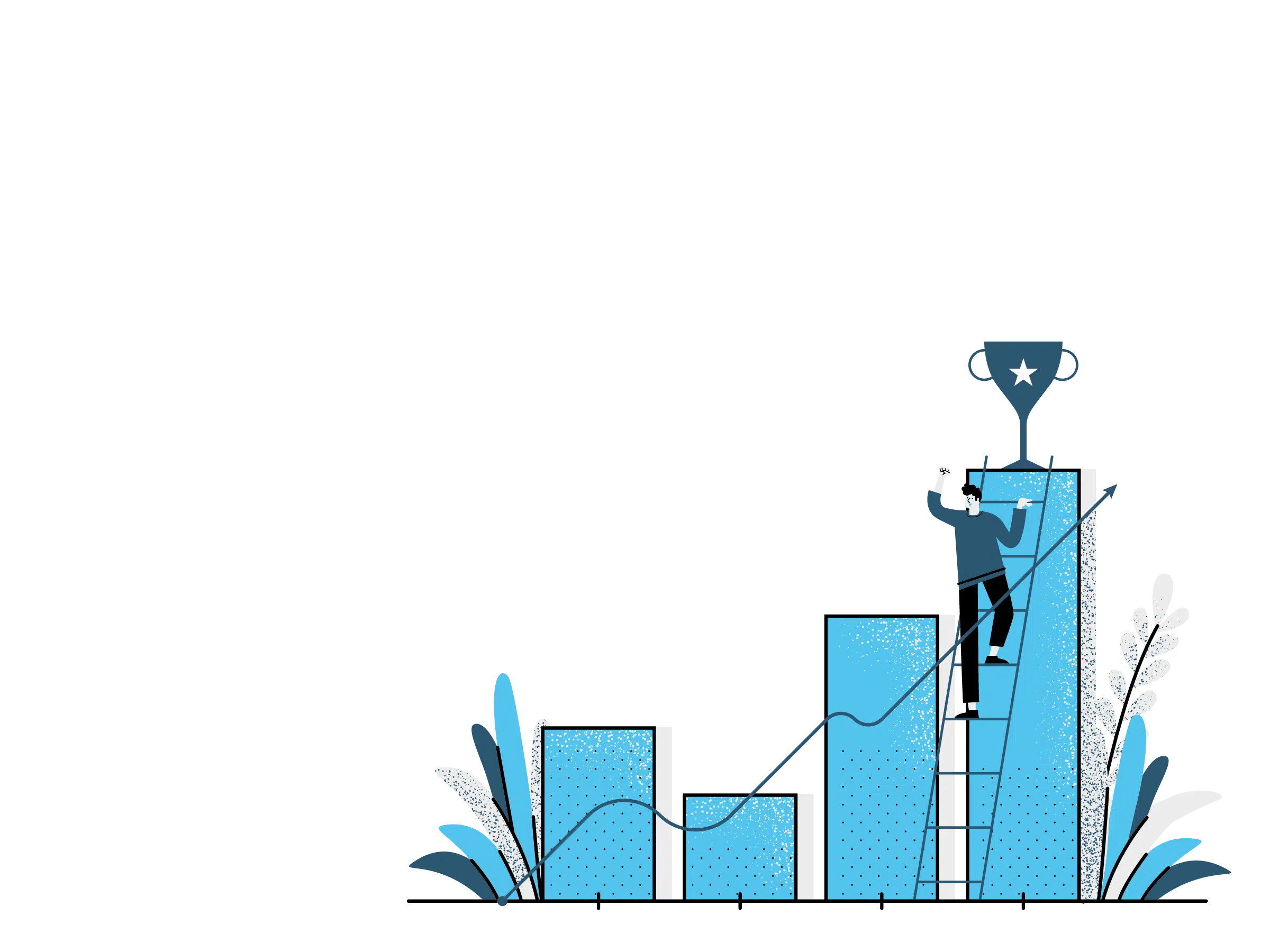 Find Out How SEO Services Can Improve Your Revenue
Stay ahead in a rapidly changing landscape with consistent ranking monitoring from an SEO company in Baltimore.
Learn more about Baltimore SEO Companies
SEO is Search Engine Optimization. 
Search Engine Optimization means optimizing your website to appear at the forefront of the search results on Google and other search engines.
Search Engine Optimization in Baltimore is all about keyword phrases, competitor analysis, fast-loading websites, rich content, and a stellar reputation that makes Google notice you.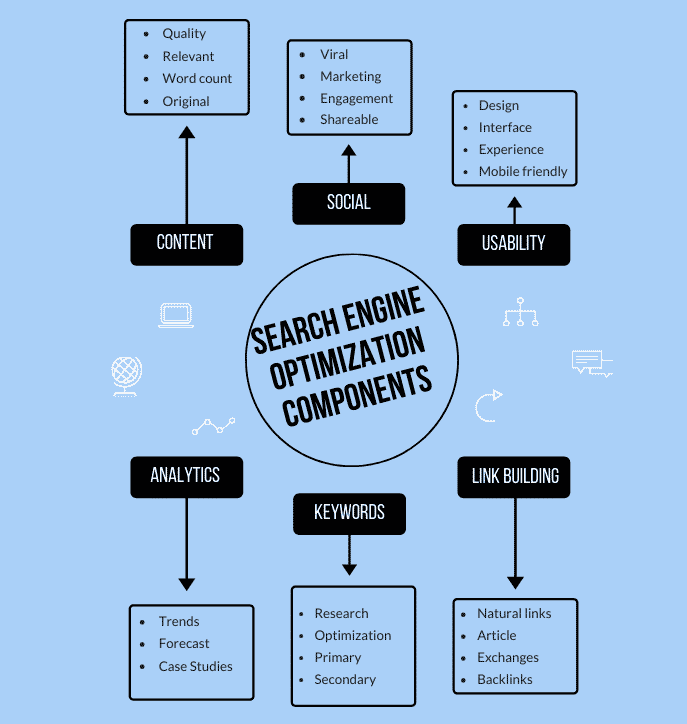 Our SEO Services in a Nutshell
SEO is how online search engines find you, your business, your products and your services. It relies on a combination of:
Original, useful content that we employ writers to create for you
Engaging and sharable components like infographics
A quick-loading interface and mobile friendly layout
Associated links to your website found in similar content across the internet
Use of keywords that Google deems specific to your product and services
Analysis of the upcoming trends in social media and SEO progression
SEO results in an organically created search result displaying your website at the top of websites like Google, Yahoo!, Bing, and others.
Over 60% of all internet traffic begins with an internet search, so it is imperative your website has a high ranking in order to be discovered.
In fact, the top 5 search results receive 70% of all clicks — if your website is sixth or below, there's only a 30% chance someone will view your website and discover your business.
So the next time someone Googles the product or service you sell, asks Siri to display search results, or inquires to Alexa for a solution to their needs, SEO Company Baltimore helps your website appear as one of the top results, meaning more clicks, more clients, more buys, and better business.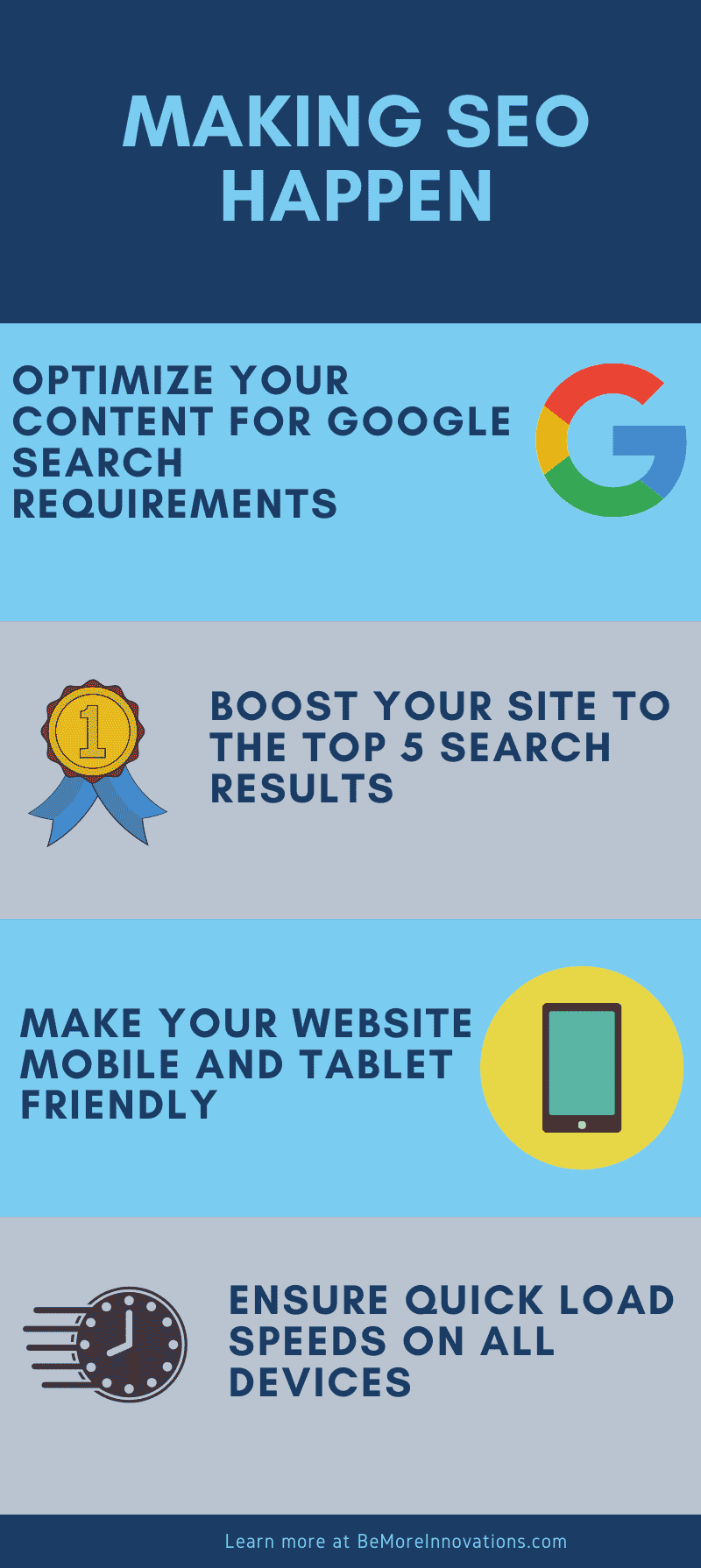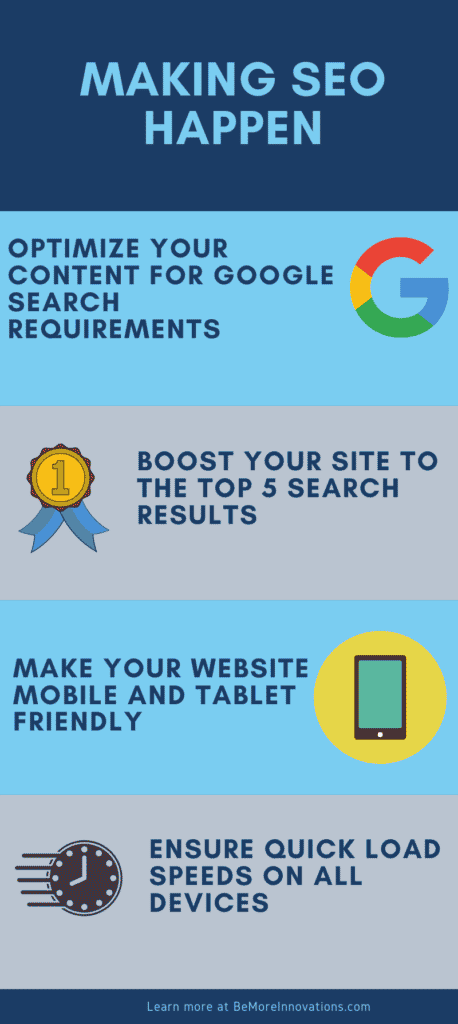 How We Make SEO Marketing Results Happen
SEO is not a paid advertisement or pay-per-click marketing, where you purchase ad space on the internet. SEO takes time to develop, research, draft, and implement, creating long-term results.
Optimizing your search engine appearance means creating online content and a website design that is search-engine friendly. Believe it or not, Google and other search engines analyze websites for the best search engine results based on numerous factors. Google has a trust-based system, and it has created its own way of deciding whether your content is "trusted" or not.
That's right, just like you want to confirm your marketer is trustworthy before hiring them for your business, Google wants to make sure your website's content is trusted before displaying it as part of the top results. Remember when your professor checked your papers for plagiarism? Google does the same thing for your website content. It isn't enough to copy your services page after page, Google cares that you are providing unique, specific, useful details to your clients that will give visitors to your website a fulfilling experience.
Google's method tracks how many clicks you get, how often people stay on your website, and how many pages they visit. This means if people hop off your website because of a slow load speed, messy layout, typos, or repetitive content, Google deems you unfulfilling and drops your ranking. Unfortunately, it is not just enough to have the right product and service, you have to know how to sell it — first to Google, then to your consumers.
Bimeo Digital Solutions considers all of these factors and ensures everything from your webpage titles to the size of your images is search engine compliant and user enticing.
Frequently Asked Questions
Local SEO vs. Organic SEO
Local SEO is how your business shows up in the Google Map Pack for nearby and location-specific searches. 
Local SEO focuses on appearing in organic searches that are relevant to your local service areas. To achieve local SEO results, it is important to highlight relevant business location information throughout the website. 
Our team at Bimeo helps create a local SEO roadmap by analyzing online listings, map pack information, and address consistencies across the web. Creating a unified, consistent address listing helps boost credibility with Google. 
Additionally, we do not stop updating listings, looking for new relevant sites to add the business to, and we create geographic-focused content that appeals to users and search engines alike. 
Organic SEO focuses on appearing in web search results that are relevant to your goods and services, regardless of location.
Organic SEO is great for e-commerce websites or businesses that are not restricted by geographic locations. A focus on organic SEO is recommended for online shops, e-commerce websites, consulting businesses, and other remote companies. 
Organic SEO is also used alongside local SEO to help boost search results. Both SEO focuses have their uses for companies and are used solo or in tandem to achieve the high-ranking result.