Digital marketing for small businesses can feel overwhelming to business owners. There is constantly an ever-evolving landscape of digital marketing changes, including keyword updates, ranking criteria for search engines, social media updates, trends, web designs, and more. In addition to running your business, staying on top of clientele and employees, and pivoting your approach in your field, you must be on your A-game for digital marketing.
At Bimeo Digital, we know that some business owners love to do it all, so here are the top 7 best digital marketing tools for small business owners. These will help you and your digital marketing team track keywords, design graphics, schedule content, do market research, and look at hard numbers to improve your stats and performance.
Ready to outsource digital marketing in Baltimore? Get a free quote with no obligation today.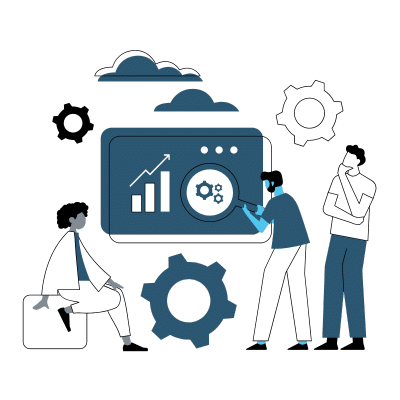 Top 7 Digital Marketing Software for Business Owners
Best For: SEO; Keyword Tracking; Keyword Research; Competitor Anlysis
SEMRush offers significant benefits to business owners looking to improve their SEO in-house. With numerous plan options and pick-and-choose features, you can customize SEMRush to be your place for social media analytics, Google My Business posting, keyword tracking, content research, and more.
Its most notable features include the ability to track and compare competitors, seeing their SEO and keyword strategies in live time against your own. All business owners looking for digital marketing assistance should use the keyword tracking and citation analysis, so you can watch your rankings adjust as you pivot your approach and see where your shortcomings fall.
SEMRush does have some pitfalls, however, like a steep entry price for small or local businesses looking to use only some of the features. If you have no previous SEO experience, the tool can be complicated and involves a learning curve. This is a top-tier performance tool but may be out of price range or experience range for some clientele. 
Tip- Partner with a local digital marketing company that is already well-versed in SEMRush and using its features in its day-to-day processes. Many local SEO companies, like Bimeo Digital, offer comprehensive digital marketing packages that are more cost-effective as a whole vs a stand-alone subscription to SEMRush for a single business. This gives you all the advantages of a company using SEMRush without having to subscribe, learn, or monitor the tool yourself.
Best For: Reviews and Responses; Review Showcases; Citations; Search Rankings
Another highly popular digital marketing software for business owners, BrightLocal is best for citation monitoring, review tracking and showcases, and ranking tracking. Similar to SEMRush in terms of offerings but with a very different user experience and gentler learning curve, it offers many features that are more in line with citations, reviews, and rankings vs keyword management.
You are able to customize your NAP (name, address, phone number) and allow the citation tool to make these cohesive across dozens of local listing sites. You can compare and contrast competitor strategies to improve your own marketing approach to fill gaps. The best feature is the ability to compile all reviews in one place, watching the reputation of your business across all sites. This also improves review responses and grants you the opportunity to showcase your reviews on your website with easy codes and plug-ins.
BrightLocal does also have a higher cost that may price itself out of certain budgets. Consider what tools are most essential to you when considering BrightLocal and comparing package options.
Best For: Content Drafting; Content Inspiration
ChatGPT and other AI writing tools have become the latest trend and have taken off in the last year as a critical tool for small business owners to utilize for DIY digital marketing. ChatGPT has a breadth of possibilities but the biggest con to understand with ChatGPT, or any other AI generator, is that how you use it, prompt it, and edit it is crucial to success.
ChatGPT makes it to the top of our 7 must-have digital marketing software because it is critical for helping to generate content, provide inspiration, and create an outline for blogs, social media, and other regular content scheduling. With the proper prompts, ChatGPT can provide intro paragraphs or hooks to help you seize your readers and guide your writing while giving outlines with headers to provide structure.
To stay on top of regular content creation, ChatGPT is a valuable source, but it is critical to remember that quality, not quantity, drives business. ChatGPT should not be used without editing or else Google may fail to index your page or rank it for qualifying keywords. The success of this tool is in practical inspiration approach and not using it for research or straight copy-paste. 
Tip- Work with professional content writers if you feel you need assistance staying on top of blog posts, service pages, location landing pages, Google posts, social media captions, and more. It is important to find writers who can use AI to help guide their writing and still provide human edits that help improve the tone, structure, flow, and jargon to reach your target audience. AI is no replacement for human writers. 
Best For: Graphic Designs; Social Media Templates; Social Media Inspiration
Canva is a graphic design platform that is user-friendly for anyone of any entry-level when it comes to graphics, photos, and general design. They offer a breadth of templates, ranging from specific social media trends to headers, posters, and more for general business use. You can use Canva to upload your own media or capitalize on their stock image and video library.
Canva is best for business owners who enjoy managing their own social media but are looking for easy-to-edit templates and find design ideas or inspiration. You can easily adapt any template to your specific branding and find any media you need to meet your branding persona. 
Canva does have a free option with limited sources and has several paid plans to improve on features and other access. Depending on your level of social media design, involvement, and media needed, the free plan may suffice. No matter what you're looking for, Canva is worth the trial period to improve your digital content with ease.
Best For: Email Marketing and Newsletters
If your digital marketing strategy isn't optimizing email marketing and regular email newsletters, you are missing out on massive amounts of client referrals, customer retention, and easy promotional methods. For that, we recommend MailChimp, an email marketing platform that is user-friendly and has multiple integrations for top websites like WordPress.
MailChimp is a go-to for digital marketing software because it makes email campaigns easy. You can design, customize, and send all from within the platform. With certain subscription plans, you pay for access to additional marketing analytics, helping to form stats on open rate, delete rate, spam reports, and more.
MailChimp and email marketing in general will require regular upkeep but with the right plug-ins for your website you can streamline newsletter access and sign-ups. Even one a month can improve your customer return rate and MailChimp makes it easy for beginners to get started. 
Tip- Partnering with a local Baltimore digital marketing company familiar with email marketing can help streamline and improve your email campaigns. Did you know most users sign up for emails for promotions and early access? Your digital marketing company can help create and implement easy-to-use offers that help improve purchases and referrals with ease.
Best For: SEO; Website Analysis
Google Analytics (GA) is a must-have for any business owner trying to stay on top of their website traffic and SEO approach. GA is a powerful insight tool that helps give stats and performance tracking on website traffic, user behavior, and the conversion rates of users. You can view key metrics like your visitors, geographic locations, which pages are interacted with most, and the flow of page visitations.
GA does have a learning curve and can be difficult to navigate at first without any previous website or SEO knowledge. It will take a while to learn where to find the most accurate data due to specific listings and niche data-collecting options. However, once learned, business owners can quickly view how marketing campaigns are going all in one place. 
Best For: Social Media Marketing; Social Media Advertising; Schedule Social Media Posts
No digital marketing plan is complete without social media management, and the biggest force currently to stay on top of for organic reach and paid opportunities is all things Meta: Facebook and Insta.
Previously Facebook Business Suite, Meta Business Suite is the top tool for scheduling your posts and reels for both Facebook and Instagram ahead of time. This is a top must-have digital marketing tool for business owners because an up-to-date and active social media presence is key to being competitive and staying relevant – however, posting every day is not easy. By scheduling posts up to 30 days ahead of time, you can easily stay in line with trends and be timely without having to stress every day.
Additionally, Meta Business Suite provides insights into your post performance, engagement metrics, and audience demographics. Businesses with a broader social media presence may require additional tools if your focus is also on TikTok, Twitter (X), or Linkedin. Despite potential limitations, Meta Business Suite offers an efficient way to manage social media content and advertising, enhancing engagement and visibility within the digital landscape. It is free to use and that is why it makes our list over other paid scheduling tools.
Conquer the Digital Landscape With Must-Have Digital Marketing Software
The list of digital marketing software options is endless and these top 7 digital marketing tools only break the surface of what is available. Our team is proficient with and excited about each tool we listed, using them daily in our digital marketing practice.
If you're looking to get the assistance of an outside company for digital marketing management, contact us today for a free quote and get more info and assistance in achieving your business goals.